Key facts:
The Ethereum Classic hashrate went from 68,073.45 EH / s to 40,512.3 EH / s in less than 24 hours.

The What To Mine app calculates losses of up to $ 2 a day for ETC miners.
Ethereum Classic successfully reduced its reward per block mined on March 16. However, everything indicates that monetary policy has affected the profitability of its mining. Earnings per block of ETC mined are currently in the red, while the blockchain's hashrate is dropping steeply.
The platform CoinWarz registers a 40.4% decrease in the Ethereum Classic hashrate, a figure that is directly related to the number of miners connected to the network.
The fall occurred in a 24-hour period, since on March 16 the network registered a hashrate of 68,073.45 EH / s and for this March 17 it is calculated at 40,512.3 EH / s. In this way, Ethereum Classic starts the week with the lowest hash rate it has registered so far this month of March.
Loss of hashrate on the network would be indicating the disconnection of mining equipment and computers from its blockchain. This "forced blackout" could be being influenced by the reduction of the reward in the mined blocks scheduled for this March 16. Network reached the 10 million block over the course of the day, at which point this reduction in ETC rewards was activated by 20%.
Today @eth_classic begins a monumental new era as #EthereumClassic enters the second era of its established '5M20' Monetary Policy, reducing $ETC block rewards. https://t.co/3GLfpzq54d

— Ethereum Classic (@eth_classic) March 17, 2020
The miners will now not earn 4 ETC for each block they confirm as they did almost three years ago, but will receive about 3.2 ETC for their activities. The cutout, inspired by the halving of Bitcoin, seeks to combat ETC inflation by making its crypto asset much scarcer and thus more valuable. However, in the first instance monetary policy tends to affect the mining industry until the cryptocurrency begins to appreciate.
Miners depend, for the most part, on the rewards they receive for each mined block, so their profits are reduced by 20% each time there is a reduction in rewards in Ethereum Classic. This situation can become even more complicated if we take into account that the cryptocurrency market is in a downtrend and mining expenses are still very expensive.
Because of that, mining in Ethereum Classic is currently giving more losses than profitsTherefore, some miners prefer to disconnect their equipment before continuing to lose money.
The numbers are in the negative
If we use the calculator What To Mine To visualize how much the ETC decline and the ETC price crash have affected mining Ethereum Classic, red numbers appear immediately. When considering one of the cheapest electricity rates in the world, such as that of Kuwait with 0.3 cents per kWh; and we use as a reference a GPU equipment with a hashrate of 77.2 Mh / S as is the case of AMD Radeon VII; a day of mining generates an average profit of 0.63 cents.
In addition to the net profit, the miner must calculate the average cost to be paid to generate this income, which would be $ 2.92. If this is the case, a miner would not be receiving profits, but more daily losses of up to $ 2.28 per day.
The website indicates that in a week, following the price of the ETC in the 4 dollars and a mining difficulty of 139 T, miners could report losses of up to $ 15 per connected equipment. Calculator CryptoCompare, another platform specialized in mining calculations, also marks the gains in negative and forecasts daily losses of up to 3 dollars.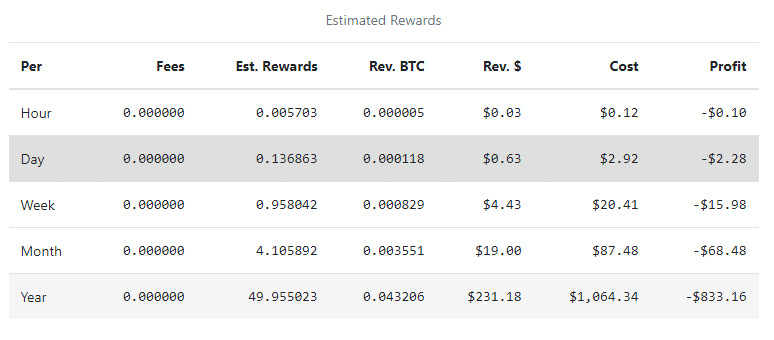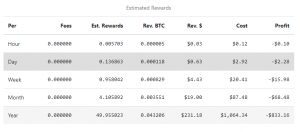 These are average calculations, since not all miners have the same hashrate or pay the same electricity rates. For example, those miners who use Innosilicon's A10 ETHMaster rigs to mine Ethereum Classic can still generate daily profit of $ 0.97 to $ 1.27. That is, the mining of this blockchain is still profitable for certain ASIC equipment with enormous computing power, according to reports from What To Mine.
But not all ASICs have the same fate as Innosilicon. One phenomenon that has contributed to the decline in the Ethereum Classic hashrate is that Bitmain's E3 miner became obsolete for the month of February. Users reported a steep drop in your hash rate that knocked them out of the competition, only later learning that it was due to limitations in their video memory. So far Bitmain has not confirmed whether it will launch new ASIC models to mine networks such as Ethereum or Ethereum Classic, leaving this market in suspense.
Although Ethereum Classic mining is currently going through a difficult time, this does not mean that the losses will be sustained over time. The disconnection of miners from this blockchain will motivate the decrease of mining difficultyTherefore, it will be easier for miners who remain on the network to confirm new blocks.
Also, we will have to wait to find out what will happen to the economy and finance worldwide. The cryptocurrency market is hard hit by the panic generated by the coronavirus pandemic. Therefore, it is not yet known what will happen to the price of the ETC.
We would love to give thanks to the writer of this write-up for this amazing content

Reward reduction in Ethereum Classic affected its mining profitability