Although bitcoin (BTC) has historically been the cryptocurrency most closely associated with illegal darknet markets, Monero is gaining visibility in recent times in that ecosystem.
The darknet markets offer various illicit products, among which we find drugs of all kinds, stolen credentials to access multiple websites and even falsified documents. Naturally, buyers and sellers prefer anonymity and optimal privacy for these transactions.
These platforms have their own code. In addition to not allowing the sale of weapons or the offer and contracting of services to harm third parties, in the darknet markets we especially find the preservation of anonymity as a principle. Among the policies of many of these sites we can see that they even mention sanctions against those who reveal private data of third parties.
With that spirit as a guide, the users of these markets have begun to see in Monero an alternative that offers greater privacy with respect to the pioneer cryptocurrency. Although there are options to make Bitcoin transactions more private, for many in these markets it is insufficient.
Payments with Bitcoin and other cryptocurrencies on the darknet
The growing interest in greater privacy has not generated a displacement of Bitcoin as a privileged means of payment in these markets. As CriptoNoticias reviewed in mid-July, the use of Bitcoin rather had a notable growth in the first quarter of 2020, with respect to the same period of the previous year.
A Crystal Blockchain report revealed a 65% increase between the two periods described above. During the first three months of 2019, the dark markets moved about $ 21 million in BTC, while in 2020 the figure was $ 55 million.
According to Chainalysis, on the other hand, the percentages of payments with cryptocurrencies are still low compared to the total in the dark markets. As reported by this media, a report from January this year revealed payments with some cryptocurrency on the darknet barely reached 6.32 million dollars, out of a total of 800 million dollars spent during 2019 in those markets.
Since 2019, we see how the funds in BTC moved on the darknet are barely around 1%. In 2012, the percentage of bitcoin payments on the darknet was 7%, so the most recent figures mean a significant drop. Despite this, various reports place BTC as the most used cryptocurrency on the darknet.
Before this wave of interest in Monero, darknet users were already concerned about privacy in cryptocurrency transactions. To ensure that privacy, there were bitcoin mixing services like Bestmixer or Bitcoin Blender, although both services are no longer available.
In the case of Bitcoin Blender, no further details were given as to what prompted the shutdown of the service. Months before the closure of Blender, authorities from several countries in conjunction with Europol had closed Bestmixer.
Community, questions and privacy as a concern
If we refer to the community around the darknet and Reddit, we find that debate alive: is bitcoin private enough? Is a new exchange currency necessary to maintain anonymity on the darknet? The conclusion is not unanimous, but it is reiterative. The use of Monero is strongly recommended.
The darknet subreddit mentions Bitcoin as a means of payment. In the frequently asked questions section of this community, methods to buy bitcoin are even pointed out and they recommend not sending BTC directly from the wallet with which BTC was initially bought, as ways to maintain privacy.
But in the query section of the same community we find a guide for the use of Monero. The guide was published just a month ago, which shows the recent interest in the topic among darknet users.
What is XMR? XMR is like BTC, it is a cryptocurrency. The difference between XMR and BTC is that XMR is a privacy-focused cryptocurrency. With BTC, everyone can see the sender, the recipient, and the amount sent through the blockchain. XMR is different, with XMR, no stranger can see the sender, the recipient, and the amount sent. This makes using XMR better for opsec [protección de los datos].

Monero guide available on the Darknet subreddit
As an example, we could see that a user made a public query on the darknet subreddit. He introduced himself as a beginner and asked for support in understanding how to start buying things in the dark markets without being tracked. Among the answers, they recommended use the Tails operating system, learn how to use PGP – an application to protect privacy on the Internet – and use Monero as an exchange currency in the markets.
"When using cryptocurrencies, avoid bitcoin and exchanges like Coinbase and so on because that's very traceable," he writes another user. The same redditor completes: "learn to use Monero and wallets offline." Otherwise, he says, it will be easy for governments to keep track of their funds.
In other cases, less experienced users they ask for the best options to trade bitcoin without being tracked and find answers as blunt as this redditor: "You may want to read about how bitcoin works, there is no such thing as an untraceable wallet."
The least radical regarding the lack of privacy in Bitcoin recommend the use of mixers for transactions, with services that offer wallets such as Samourai or Wasabi Wallet.
There are also those who directly wonder if it is really safe to use Monero to make purchases in the dark markets. And community member responses highly recommend its use.
Among the recommendations, we find those who present Monero as a kind of cash. "Think of buying XMR like taking cash at the ATM: the bank knows you took out cash (you bought XMR) but has no idea what you will do with it next." wrote ABatHat.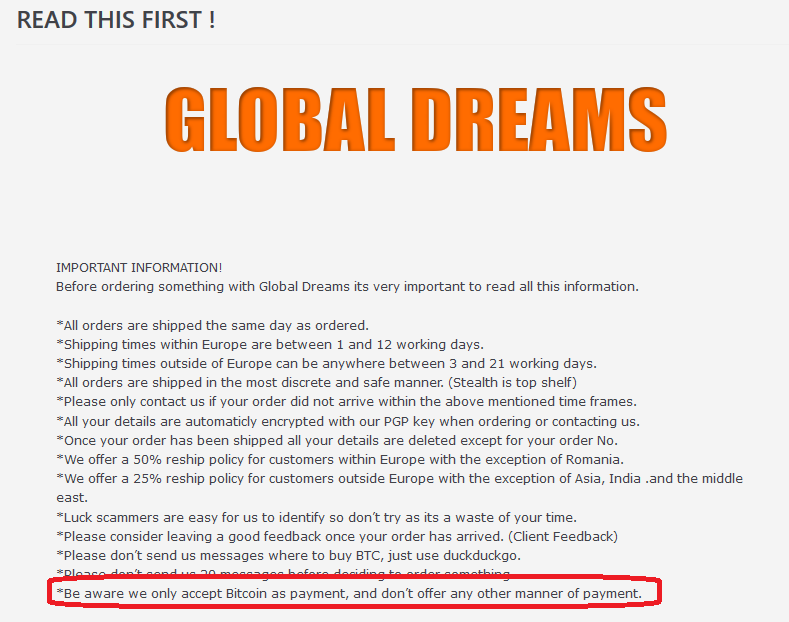 Monero gains ground in darknet markets
We accessed the darknet markets through the Tor privacy browser. A direct review in those markets supports the view of specialists, regarding a still preferential use for the currency created by Satoshi Nakamoto. But a change in that paradigm seems to be in full swing.
At the end of March, the magazine Luckbox Magazine interviewed various cybersecurity specialists regarding tracing business activities in dark markets. Most alleged at the time that Bitcoin held the limelight among cryptocurrencies on the darknet.
Among those interviewed, Timothy Summers considered that "there is a direct correlation between the cryptocurrencies accepted and how private the participants believe the exchange should be."
Summers referred to two large groups of people: those who would take "the risk" of using bitcoin or some altcoins without privacy and other "more sophisticated" markets, those who use Monero or Zcash. But, he added, "there are no signs that Bitcoin is losing ground."
In our navigation through these markets, we did not find a direct relationship between the products sold and the cryptocurrencies accepted. The issue depends more on the vision of the markets, than on whether they sell harder drugs or cannabis.
Of almost two dozen markets visited on the darknet, there are currently few markets where we find Bitcoin as the only means of payment. Among those few, we find Enigma, where stolen credentials are sold to access various sites, between companies such as Adidas or shopping platforms such as eBay.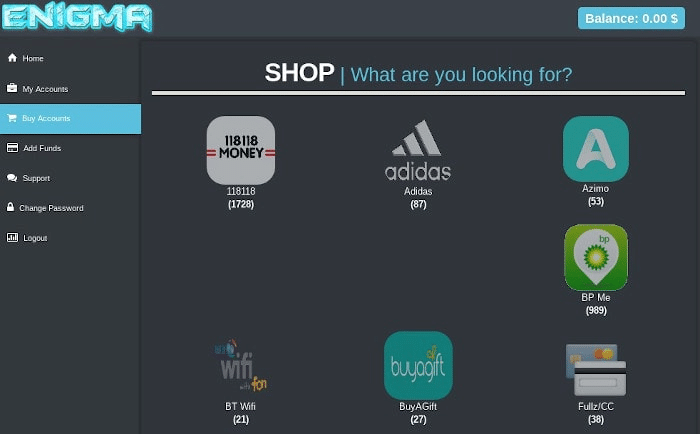 Global Dreams, a market for the sale of all kinds of drugs; and Flugsvamp, also maintain BTC as their only form of payment to date, while there are markets such as Vice City, in which they are working to incorporate Monero to their payment options.
Rarer is to find sites that accept multiple cryptocurrencies without any of them being XMR. Of the sites investigated, only Tor Market, a drug sales platform, get bitcoin and some altcoins, but not Monero.
The vast majority of markets receive payments with bitcoin and monero. There are some, like Kilos ("the Amazon of the darknet"), that have exchange services to go from BTC to Monero, and vice versa.
Regardless of the currencies they accept, all of these markets recommend various practices to maintain privacy when sending and receiving funds. Recommendations include using cryptocurrency mixing services and avoiding sending funds directly from exchanges with KYC (Know Your Client).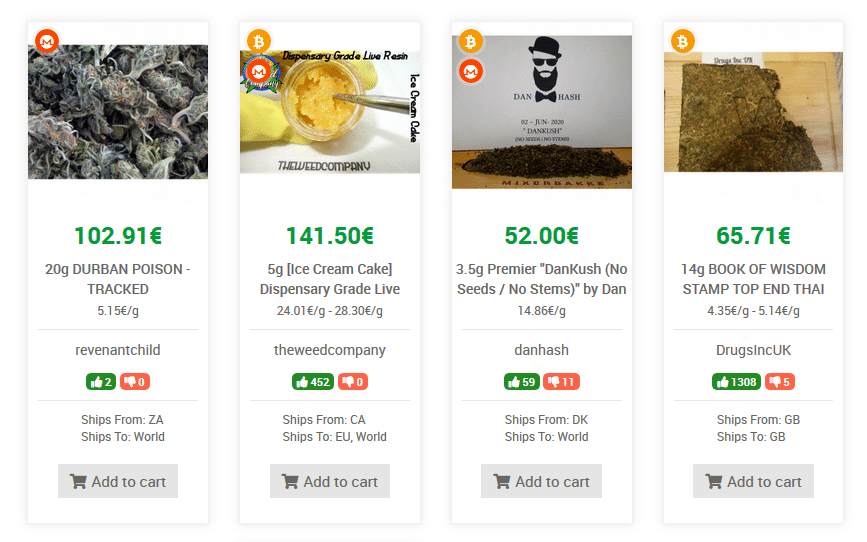 Monero-only markets
They are also few, but already some darknet markets do not accept bitcoin and opted for Monero as their only payment option. And not only do they accept XMR, but they strongly encourage its use and uphold its privacy offering in contrast to Bitcoin's.
One such "monero-only" market is White House Market. This platform is presented as "a market with a high level of security and anonymity". This is how they justify the use of Monero as the only currency for payments: "Bitcoin lacks the required privacy and some users do not know how and neglect to clean their coins."
On the other hand, in the Monopoly market they do not accept BTC either. However, along with the Monero usage guides (the only currency they accept) we can also find tutorials for the use of Bitcoin, where to buy both cryptocurrencies and methods to "clean your cryptocurrencies".
Those who manage the Monopoly market consider that "it is time for Monero to become the standard" for business transactions on the darknet. They assure in this regard that "not only is it superior, but people are too lazy and simply do not care about the footprints they leave."
Every blow against our community is a bullet in the hands of the forces of order and the propaganda of the main media that denounce the 'great deep web' in their low-quality articles. It is time to bankrupt these blockchain analyst dogs because they are taking advantage of our misfortune and as a community we must put an end to it.

Monopoly Market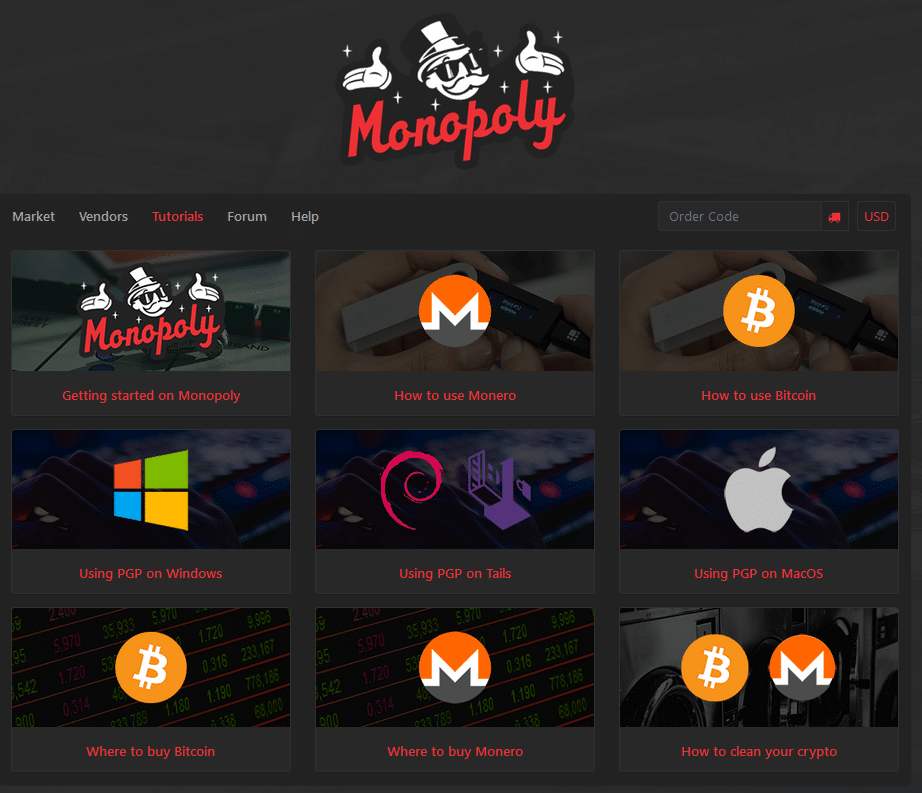 While darknet users seek to improve their privacy, blockchain analysis companies, such as Chainalysis or Elliptic, are advancing their systems for tracking transactions in Bitcoin and other blockchains.
Although both firms have even moved on to private transaction tracking, particularly on Zcash, Monero is still out of reach. The insistence of many users from the dark markets to use XMR starts, as we have seen, from the justification that it is the furthest from the eyes of third parties to date among the most used cryptocurrencies.
We would like to thank the writer of this short article for this incredible web content

Monero on the darknet: deep inside the illegal markets